The first five years have so much to do with how the next eighty turn out- Bill Gates
The Little Oaks Pre-school Experience
Little Oaks Nursery is a part of Royal Oaks World School Aurangabad offering a four year foundational programme designed to promote all around development of young children.
In essence, these foundations serve as a cornerstone for children's learning and development, and use a combination of formal educational coursework on early learning and development, along with other sources of information.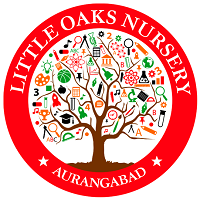 Our Motto is-
"Let Them Be Little"
Little Oaks Nursery is our foundational programme designed to promote all round development of young children.
Since competencies vary from child to child, our foundational programme blends independent learning along with guided activities. Through innovative teaching and research based methods, namely Montessori and Play way, these unique pathways of learning identify and describe - knowledge and skills - which children of these age groups typically go through during the preschool years.
Thus, Play is as an integral part of the curriculum and our activities encourage them towards active exploration and experimentation. To serve all children, the pre-primary programme provides appropriate social interactions, experiences and environments to sensitively assist each child's learning development.
The Pre-school Experience What we offer at Little Oaks Nursery
Quality Curriculum
Modern and Appealing approach
Dynamic Interactive Learning Process
Age appropriate and Child initiated Learning Strategies.
Stimulating Environment
Personality Development.
Technology Based Learning
Smart Classrooms
Designated and specially designed Audio-Visual Room.
English and Linguistic Laboratory,
Maths Laboratory
Multi-purpose Hall
Performing Arts Stage
Football field
Basketball Court
Cricket nets
State of the Art- Computer Laboratories
Common room for Students
Weekly Events, Celebrations, Competitions.
Continuous and Comprehensive Evaluation.
CCTV Monitoring.
GPS enabled School Transport
Nutritious Healthy Meals.
Talent Recognition and Grooming.
Teachers ongoing Professional Development.
Unique Montessori Activity and Play Room.
Swimming Pool.
Meaningful and Enriching Interactions with peer group and adults.
Emotional, Social, Academic and Personal Development.
A Global Approach to Learning
Senior Leadership Team with International Experience and Training.